(Press release)
SMITHTOWN, NY (January 24, 2007) – Nor'east Media, owner of the highly interactive and most visited saltwater fishing website on the east coast,
noreast.com
, announced today their acquisition of the west coast's largest saltwater site,
allcoast.com
. The two sites combined will have the largest online saltwater fishing audience in the country, with over 10 million pages turned a month, 1 million monthly visits, and 60,000 registered users.
"Allcoast has developed a loyal and active audience that we intend to grow by investing heavily in the website's features and overall user experience" said George Scocca, founder of Nor'east Media. "Based on the demand from both the
noreast.com
and
allcoast.com
audience, we plan to make the two sites interactive with each other in order to share information that is relevant to both coasts, while continuing to keep the focus on the best local saltwater fishing information available."
Users of both
noreast.com
and
allcoast.com
visit these sites to read posted fishing reports, engage in general fishing discussion, shop for fishing related products and services, read fishing articles from the editorial staff, and check marine conditions. Although both sites will remain the best online sources for locally geared saltwater fishing information, those discussion boards which are not locally geared, such as tackle and boat maintenance, will be a combined discussion that can be viewed on either site. This will give users double the amount of useful information on these topics.
"
Allcoast.com
is very excited to become a member of the Nor'east Media family," said Don Parent, founder of
allcoast.com
. "We look forward to being part of a saltwater media group with a national presence, yet an understanding of the importance of a localized angle."
About Nor'east Media
Nor'east Media is the leading provider of saltwater fishing information to anglers in the northeastern United States. Nor'east Saltwater, established in 1990, is a weekly print magazine that provides anglers with detailed fishing reports, feature articles, and fisheries management updates for their area.
Noreast.com
, with over 600,000 visits per month, is the leading online saltwater fishing resource. Visitors of
noreast.com
can read the magazine online, post their own fishing reports, search for local vendors, and access additional fishing analysis in the subscriber section. Nor'east Media also runs the Triple Crown Tournament Series, the largest saltwater fishing tournament in the northeast, with over $100,000 in prizes awarded annually.
Contact: Rob Pavlick (631) 863-0170 ext. 28 or e-mail
rob@noreast.com
Royal Polaris Report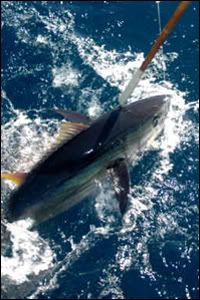 January 30, 2007 "The weather today was beautiful. A slight breeze, flat seas and sunny. What more could you ask for. Bingo! That's right, Billy made a good call by looking offshore. On our way to the local banks, Eddie Felarca spotted a very large spot of birds so Billy put the pedal to the metal.
"As we approached the bird school, Aaron Barnhill spotted a very large log in the water. The log was loaded with Black Dragons, Red Tail Triggers and Giant Yellowfin tuna. The game was on. Not only was it loaded, the fish wanted to bite. And bite they did!
Royal Polaris found these big tuna on a large log.
"We had as many as 17 going at one time. This is what the doctor ordered. There were two sizes of Yellowfin on this log. One size was in the 40 to 60 pound range and the other was in the 110 to 160 pound range, so I guess you could say today was a very good day. We spent most of our day pulling on Giant Yellowfin tuna so we are going to stay in the area and start our search tomorrow for more giants."
Excel Report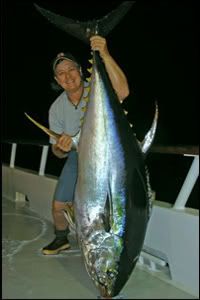 January 28: "Today was another great day for us as we picked up 12 tuna most of which was around 40 pounds and a stand out 175 for Mimi Isham that she caught on the chunk and 130 pound leader.
Photographer Mark Monfort bagged a skin on the Excel.
"Other than the tuna we had a some wahoo like the one Mark Monfort is holding in the picture. We are staying for at least one more day."
January 29: "Today was a slow day with not much on the tuna. We planned on being offshore the remainder of the trip so we picked up some wahoo before we departed the bank.
The Excel caught some wahoo during a period of slow tuna fishing.
"We are going to look offshore and maybe around Clarion to see what we can come up with. I will check in later with any results." (Skipper Shawn Steward)
Big Fishing Contest
There are 35 million anglers in the US, reports
CNBC
. You wouldn't expect those living in the central part of the country to be very active right now, but Brainerd, MN is the home of the world's biggest ice-fishing contest, says the news organization, with some 20,000 holes presently being drilled in 18 inches of ice. The purpose? Making places to fish, for the throngs who enter the $150,000 contest, sponsored by the Junior Chamber of Commerce and now in its 17th year. Looks like a lot of fun, but when it comes to fishing through a hole, spotting the quarry with a submerged waterproof video camera, I get cold feet.
CNBC
says local stores are selling a lot of cameras on a string right now.
FishingVideos Pictures
When you see the new booth for
Fisherman's Landing
at the spring fishing shows this year you'll see a wall-sized montage of work by Bill Roecker and assistant Paul Sweeney adorning the back wall of the booth.
Bill Boyce
provided the background shot of tuna swimming, and Tom and Sherry Waters put the display together to make the strong visual.
The photos feature some of the fish sought by southland anglers, albacore, yellowtail, wahoo, yellowfin and dorado, along with a variety of anglers and a destination map. We think it looks pretty good, and hope you'll agree. Click the map and take a look!