The long range fleet has returned to the fishing grounds at the Hurricane Bank and off Southern Baja and Puerto Vallarta. Some cows have been caught in all three locations, but skippers now seem to be "getting the handle" on the fish. This often happens during the Christmas layover. The big yellowfin tuna move or change their habits, and it takes a few days to get things sorted out again. The passage of the full moon also may have put the fish off for a day or two. Right now, though, it looks like things may be shaping up for some good fishing.
Angler Gets Started
"We got down to the big fish zone," said the
American Angler's
report for January 9, "and found ourselves with beautiful conditions. Flat calm weather with good visibility was all that was needed to find our first stop of the day. Our group of seasoned anglers knew exactly what to do and the handful of fish hooked were quickly brought to gaff. Greg, Jenifer, Chris and Karl were responsible for the first 160 to 180-pound grade of fish that hit the deck. We had one other stop and boated a handful of 80 to 100-pound fish.
American Angler is catching some nice yellowfin tuna.
"We had a birthday to celebrate in our family today, it was Matt Whieldon's 51st birthday, and most of the guys were there to help him toast in the New Year."
Working The Beach
"All the guys working in the "beach" big fish zone yesterday continued to see decent sign of fish although no big hits on cows were to be had," said the
Royal Star
report January 9.
"Regardless the prospects are still very good and as such we will be heading back up towards the area following our afternoon of fishing Jaime bank just to the southwest of Cabo San Lucas. Ah, the beauty of the fly down/ fly back voyage. Just think, the anglers, fresh from a night of revelry in town, will board Royal Star at 11:00 a.m. this morning, and will be fishing for giant yellowfin tuna by three in the afternoon. Minimize travel time, maximize fishing time; that's the idea.
"In fact, this ten-day voyage from Cabo last year featured nine and one-half days of fishing time! Before I get too carried away however, first we must get on the fish and get them to bite, otherwise we will be logging miles and travel time in pursuit of a catch just like anyone else. Make no mistake about it, we are dutifully aware of, and respectful of the fact, that our fate is in the hands of the fish gods. With beautiful weather today and more in the forecast, we are definitely beginning with the correct foot forward."
Off & Running
"Well, here we go again," noted
Independence
skipper Jeff DeBuys January 8. "Today we spent the day looking for the big ones we were after the last trip. We were blessed with absolutely perfect weather. We found a couple of spots that wanted to bite, and ended up with a good score on tuna from 150 to 240 pounds, with six fish over 200pounds, and 14 fish total.
"I would like to point out something really unique, we have three generations of the Puhl family from Oregon on board, and they each caught a cow today from 225 to 240 lbs. Two of them are complete beginners, and now there is no stopping them. We are going to try this again tomorrow."
Shelly's Introduction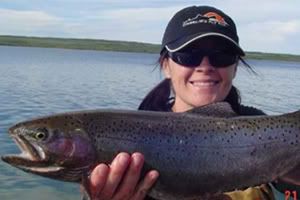 "Hello Shogun Fans! It has finally happened," wrote Shelly "The Shark" Ehmer of
BigFishHappen.com
in a
Shogun
internet report January 8, "My Shogun reports will be coming from the bridge of the Shogun! My bosses at Countywide Financial were great enough to let me have time off for this 14 day trip, so I am here on the boat with Bruce Smith.
"Captain Norman Kagawa is running the trip! I dig this guy. David Choate was kind enough to loan me the gear I needed for this trip and brought it down to the landing the morning we left. It all worked out. Jim Haynes has been nice to help me on making topshots and perfecting my knots.
"This is a Bob Sands Trip with rep Sal Valone, a classy guy. We left Saturday and cleared the point about 10:30 or so. It has been all travel with good seminars put on by Captain Bruce Smith. Everyone has been making their topshots, getting the gear ready they are ready to wet a line. You can feel the excitement. With this bunch I think everyone is just happy to be on the boat.
"The weather has come down. It has not been too bad at all. To Jan Howard: I will do my best, Thank you for all the pointers! Big Fish Do Happen!"
Breeze, Cows On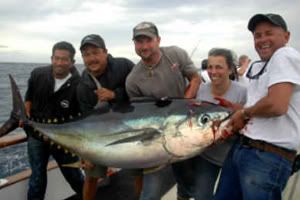 The
Royal Polaris
report for January 8 remarked on "…18 to 20 knots of breeze, overcast skies, with a slight chill in the air. Our morning started out slow once again, with only a few Wahoo to be caught. The afternoon bite started a little bit later today, but that was no surprise to us. Most of the fish were in the 130 to 150-pound range, with a few going to 180 pounds, and one going over 200 pounds.
"The lucky angler today was Susan Gentry with a Yellowfin around 225 pounds. Gary Ahsing landed a fish around 180 pounds, and Taka Tanaka had 3 fish today, from 130 to 150 pounds. We are now making our bait for tomorrow, and it's going good, and we should be done in a few minutes.
Susan Gentry gets some help showing off her tuna.
"P.S. We still have a few openings left on some upcoming trips, if you are interested give Scotty or Andrea a call at our office (619) 226-8030."