As the fleet buckles down to serious fishing, we hear stories of agony and ecstasy, of long searches and occasional discoveries, of the ponderings and the joys of the skippers as they search for big yellowfin tuna. Here are a couple of the postings from yesterday, when the American Angler recording the weighing on board of yet another 300-pound super cow. That brings the young season's total to 18, and it makes this season one of the best ever.
Deciding Factor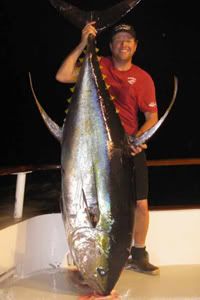 "Stress is a part of life when driving one of these long-range vessels," was the report from
American Angler
January 10. "Should we stay, or should we go? That's always the question. Throughout the day we stopped a few times only to have the fish not want to cooperate. We stopped the boat for the last time with about an hour of daylight left."
Greg Stoney was the difference-maker as he landed a 315-pounder.
"Even after we boated three fish from 75 to 140 pounds the decision on our next fishing destination was still pending. Right at dark we hooked one fish and it appeared to be a good one. This fish not only was a good one, but it made all the decisions an actual no-brainer."
Hoo-Hunting
"The weather continues to be good out at the (Hurricane) bank," noted the
Royal Polaris
report for January 10.
"Today we concentrated the morning on the Wahoo. If you ever fished for Wahoo you know how they can be. Today was a test of our will to fish. The Wahoo gave us a little action, but they would won in the overall hook-to-catch count. By the afternoon, we had the anchor down and waited for the Yellowfin to bite. They didn't take long to start. The action was steady.
"Most of the Yellowfin today were in the 130 to 150-pound range, with a few fish in the 170 to 190-pound range, and two fish going over 200 pounds. Lucky anglers today were Ron Kusumi and Susan Gentry. The heartbreak award today goes to Ray Bleim. Ray was on a kite fish for over an hour, when all at once his spectra/mono connection parted. I have a saying for that: When in doubt, let the crew check it out. We made two tanks of Flying Fish, and we are ready to rumble."