Bill Poole's new book will appear in time for the spring fishing shows, according to a press release just in. It has been long-awaited, and those who saw a copy of the biography by Chuck Garrison have high praise for it. Poole is one of the fishing community's best-known pioneers and innovators, and this look into his life and times will spark intense interest from those who fish salt water.
(Press Release) Bill Poole could have easily had second thoughts about a life-long career in West Coast sport fishing when, on the very eve of opening a fishing-barge business, he was blown out the cabin door of the 150-foot Lazy Daze by the exploding fireball from a 55-gallon drum of gasoline.
"Jesus, I'll say, the first thing you want to do when you catch fire is to put it out," recalled captain Poole. "If you're ever going to think, this is the end of it, right here, you think that when you're set on fire."
Poole was aboard the Lazy Daze, a two-masted, Gloucester schooner-turned-barge, early in the morning of March 31, 1947, when a spark flicked from a bilge-pump motor's exhaust pipe, igniting the highly volatile vapors. The gas drum, three-quarters full of fuel, detonated like a napalm bomb, turning Poole into a human torch while he raced to jump overboard and extinguish the flames. Despite third-degree burns to parts of his body, 22-year-old William E. (Bill) Poole, recently discharged from the U.S. Navy, managed to pull himself up a piece of dangling chain and back on to the deck of Lazy Daze, where he single-handedly put out the fire that had almost killed him.
Bill Poole's new biography has intriguing and astounding tales.
His "Baptism of Fire" is the apt title of a chapter in the soon-to-be-released biography of the man who, at 84, many consider the living patriarch of modern-day, West Coast sport fishing. Titled
Fish or Cut Bait: The Remarkable Life and Sportfishing Legacy of Captain Bill Poole
, the book is scheduled for an early March 2007 release, according to author and co-publisher Chuck Garrison.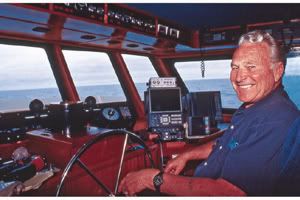 Printed by Excel Publishing in San Diego, California,
Fish or Cut Bait: The Remarkable Life and Sportfishing Legacy of Captain Bill Poole
, chronicles more than 60 years of Poole's life experiences and accomplishments, from his and dad Herb Poole's 1947 partnership in Lazy Daze to Bill Poole's subsequent ownership and skippering of nine boats, beginning with his Milida (1949) and continuing through the original Polaris (1951), Prowler (1964), Polaris III (1966), Cape Polaris (1970), Royal Polaris (1975), Polaris Deluxe (1979), Polaris Supreme (1985) and the latest, the Excel (1990).
Poole's exploits, adventures and achievements read like a Hollywood movie script: he's been set afire; survived two sinkings; punched his way out of skippers' rough-and-tumble watering holes; built the world's largest long-range sportfishers; owned a boatbuilding company; founded a chapter of Safari Club International; placed scores of big-game animals in the records books; been stalked by African lions; and rubbed elbows with celebrities like Jacque Cousteau, Lon Chaney, John Wayne, Robert Mitchum, Billy Casper, Desi Arnaz and Roy Rogers.
A lifelong hunter, and prominent safari club member, Poole bagged this incredible elk this autumn.
As owner of nine sportfishing boats, three sportfishing landings, two marinas, two fuel docks and a sprawling Montana ranch, Poole has risen to the top, financially, as a multimillionaire, a status a colleague described as "the Donald Trump of Fishing."
Poole once duped the US Coast Guard into airlifting a dead body 220 miles back to San Diego after collaborating with an angler-doctor friend aboard who "confirmed" the man was still alive; played cat-and-mouse with a game warden when selling sport-caught fish as a kid during the Depression; won a legal battle with the FBI when he was nabbed on his first motorboat with a "few extra bucks" slot machine; and laid motionless in the dark, in an African blind, so close to marauding lions he could smell their fetid breaths.
Long anticipated by serious saltwater anglers who have fished with captain Poole for more than five decades, the 14-chapter, authorized biography is being offered in both softcover and hardcover editions. Hard-cover copies carry autographs by author Chuck Garrison and skipper Bill Poole, contained in a limited-edition press run of only 1000 signed and numbered books.
Bill Poole's wife, Ingrid, is also his hunting partner and an important part of the business.
Fish or Cut Bait
officially debuts at the annual Fred Hall Fishing Tackle and Boat Show, March 7-11, at the Long Beach Convention Center in Los Angeles County. A return appearance is set for the San Diego County version of the Fred Hall Fishing Tackle and Boat Show, March 21-25, at the Del Mar Fairgrounds. Copies autographed by Garrison and Poole will be available at both events.
Concurrent with its early March launch at the Fred Hall fishing tackle shows,
Fish or Cut Bait
will also be available at fishing tackle retailers and selected bookstores throughout Southern California and by ordering online at
FishOrCutBait.net
.
Excel Publishing Book Release
Media/Promotional Office (909) 337-4916
P.O. Box 1352 E-mail:
fishideas@aol.com
419 Klamath Drive Website:
FishOrCutBait.net
Lake Arrowhead, CA 92352
TYPE: Authorized biography
TITLE:
Fish or Cut Bait: The Remarkable Life and Sportfishing Legacy of Captain Bill Poole
AUTHOR: Chuck Garrison
RELEASE: Early March 2007
FORMAT: 6 X 9, in softcover and hardcover editions
LENGTH: 296 pages, including 52 photographs
PRICE: $24.95 softcover; $34.95 hardcover, autographed and in limited edition (only 1000 printed, signed and numbered)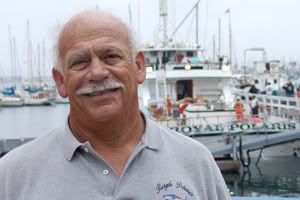 "This book celebrates Bill Poole's ethical, no-nonsense, fish-or-cut-bait way of life."
-Capt. Frank LoPreste, Sportfisher
Royal Polaris
, Partner with Bill Poole in Various Businesses
"If you've ever fished with Bill Poole, or taken a long-range trip, or just held a rod and reel, this book will inform, entertain and delight you. It's a MUST read."
-Pat McDonell, Western Outdoor News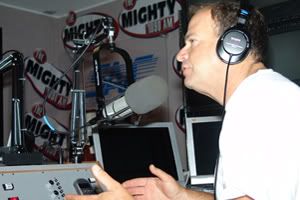 "Chuck Garrison has captured the spirit, drive and grit of a man with an unwavering quest for success."
-Pete Gray,
Let's Talk Hook-Up! Radio Show
Perfect Kite Weather
"Today was a perfect day for kite flying," said the report from
Royal Polaris
January 11, "and catching Yellowfin tuna. We had another good day of fishing on Wahoo and Yellowfin tuna. Our morning was a bit slow, but the afternoon made up for it. Most of the Yellowfin were in the 130 to 150 pound category, with few in the 170 to 190 range.
"Today's happy angler was Gary Ahsing. Gary fought a very tough fish for over an hour, this giant was not the largest of the trip, but believe me, it was the toughest so far. This fish would fight until the crew put 4 gaffs into it. We did manage to put a few Wahoo in the hole today also. We are now starting on our last hole, for the trip, and we could fill up early, but only time will tell. We will try this tomorrow, and then make a decision on what to do next."
Looking At Schools
"After yesterday," read
American Angler's
report for January 11, "we had extreme high hopes for the day. When we woke up in the morning we were once again blessed with beautiful weather. We used this weather to our advantage as we were able to get on several spots of black porpoise. Unfortunately, most of the spots either carried only a few fish or none at all.
Wes Cogan saved the day for the American Angler.
"There still is sign around, as two of our code boats ended the day with a couple of handfuls of 100 to 170-pound fish. Wes Cogan was our savior of the day, as his 127-pound tuna kept the skunk off our boat."
Big Tuna South
"After 3 days up on the beach area," wrote skipper Andy Cates aboard
Red Rooster III
January 11, "with almost nothing for our efforts, the next practical move was to head down to P.V.
"So far this morning things look promising, with our first fish a 199-pounder caught by Sonny Jones. We all were happy to see we had something to work with. Since then we have another seven fish; a 170-pounder being the biggest, and the others 100 pounds or better. We seem to keep something hooked here, and are hoping for a good day. At this point it's just nice to be anchored with fish around the boat."