Tommy Rothery docked his
Polaris Supreme
after the annual George Davis Expedition with only eight anglers aboard. Rothery tied up at his space on the inner wing at
Fisherman's Landing
, after ending his long range season on a positive note with a visit to Baja's southern banks and the Cleofas Bank, where all the fish that were kept were caught.
Polaris Supreme tied up after visiting Baja and Cleofas Bank. Best tuna was 245 pounds.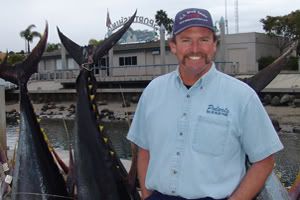 Four cows were among the fish offloaded January 13.
"All the big fish were from Cleofas," said Tommy. We released about half the fish we caught there, and nearly everything, including 15 big tuna, we caught up above.
"So many people put so much emphasis on their pile of fish at the dock," remarked Rothery. "It disgusts me."
Tommy Rothery is a firm believer in releasing fish that aren't trophies or to be used as food.
Rothery and his anglers consistently release as many fish of all sizes as any other operation.
Charlie Middleton of San Pablo got two cows; one with a sardine and the biggest one on a chunk. His tuna weighed 201.4 and 245.6 pounds. He said he fished with 8/0 Gamakatsu hooks, 130-pound Maxima line and 130-pound Spectra backing on a Penn 80 SW reel and a new Ugly Stick 130-pound class rod.
Charlie Middleton got the heftiest cow: a 245-pound yellowfin.
"That rod works good," said Charlie, who got his smaller fish in only 15 minutes.
Al Tokunaga of North Hollywood took a 232.4-pounder after a 30-minute tussle. He said the fish bit on a sardine pinned to a 9/0 Eagle Claw hook. He fished with 130-pound Momoi line and 130-pound Spectra, with a Cal Sheet-s prepped Penn 50 S reel and a Calstar 6455 XH rod.
Regular Polaris Supreme angler Al Tokunaga whipped this 238-pounder in a half-hour.
"I used an eight-ounce torpedo sinker attached with a rubber band," noted Al. "He bit right after daylight. They were down there about that time every day."
Roger Brown of Riverside bagged a 210.9-pounder with a mackerel on a 6/0 ringed Super Mutu hook. He said he fished with 100-pound Jin Kai line and 130-pound Jerry Brown Line One Spectra on a Tiagra 50 W reel and a Calstar 6455 XH rod.
Roger Brown watched as his 210-pound tuna whisked skipper Drew Henderson over the side during gaffing.
Brown's fish was notable in that it fought for 35 minutes, and then pulled skipper Drew Henderson over the side when he single-gaffed it. They were both brought aboard without further incident.
Skipper Drew took a soaking, but had the last laugh on the tuna that got him wet.
Rothery noted that he will be doing boat work from now until May 31, when he will begin his summer season of three to five-day trips.