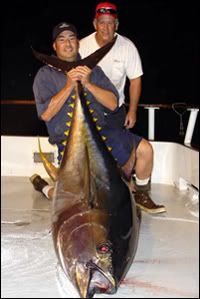 "We had a weather change last night," said the report from
American Angler
January 14, "and our good conditions turned for the worse. We had rain squalls on the radar at night and once we got into it, we experienced the wind that is usually associated with them. We had downpour rain and 20-25 knots of breeze which made bait-making very interesting. After bait making the wind did not subside, so we thought that a day spent on the anchor would be more conducive to the capture of cows than one looking offshore.
"Upon arriving at our destination, we saw decent sign of tuna on the meter. After we got the anchor down, they got on us halfway decently, but there was no current. In a nutshell, no current means no fish. All day we had them under the boat and occasionally showing themselves with a half-hearted boil. It was frustrating that we didn't get many bites and that we only landed three fish.
Chris Rydgren landed this big fish aboard the American Angler.
"The groups that we carry are the best. The days of "how many" have been given up to the pursuit of their personal best. As captain, it is appreciated the understanding that they have while trying to achieve this goal.Today's fish of the day was landed by Chris Rydgren and it topped out at 235. He was completely stoked that his hard work paid off and he would have the opportunity to tell his girlfriend Angie how much he loved her in print."
"Really Tough Day"
"Today was a really tough day," wrote Shawn Steward aboard the
Excel
, "with 25 to 30 knots of wind and steady rain which kept the participation at the rail down to one or two guys at a time. The fish had definitely taken the day off, as we only landed two tuna over 120 pounds and 2 wahoo for the day. We saw enough sign around again to make us think that we can have a couple of banner days if the fish will cooperate.
"Today was the kind of day we have been waiting for," wrote Shawn the next day. "We had good action all day, and ended up hooking some nice fish to go with a few wahoo and 30 to 60-pound tuna. We hooked a total of 4 big fish today and ended up with a 180, a 199, and a 255.
"The fish we lost was a 230-pounder that chewed through the terminal connection right at the gaff and got away. There was action as well on 100 to 140-pounders and we ended up with 26 of those. We are hoping for a few more chances at quality fish so we will check in later."
Shelly's Shogun Report
"We are still in the cow pasture and on the tuna search," wrote Shelly Ehmer of
BigFishHappen.com
January 13 aboard
Shogun
.
Shogun anglers, Shelly Ehmer left, are not giving up on the chance to hook a fish of a lifetime.
"The weather has come up a bit and has made it more difficult to find signs of fish. The anglers are not giving up on this chance to hook a fish of a lifetime.
"Most of the anglers are still on the rail when Captain Norman stops the boat. We just need to stick with it."
Intrepid's About Ready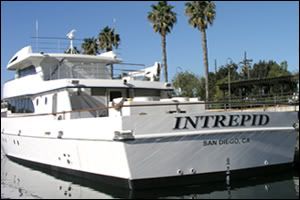 "Here are a few photos from the
Intrepid
Launch Party I was lucky enough to attend," wrote Larry Brown of Brown & Associates.
"She is truly beautiful in the water. For more information and reservations contact Carol at
carol@fishintrepid.com
or 877-686-7827."
The new Intrepid is a 111-foot sportfisher, ready to go long range.
The boat is expected to dock at
Point Loma Sportfishing
about three p.m. on January 16, said Pt. Loma spokesman Eric Fieberg.
Intrepid's new tanks are about ready to fill with water and bait.
Intrepid
Office manager Carol Wood will be at the upcoming shows, beginning in San Francisco. She said the first scheduled trip for the sparkling new rig will be June 30.