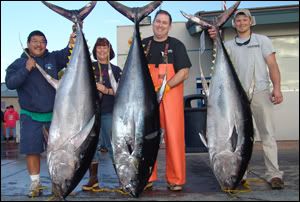 A 14-day Bob Sands Charter aboard the
Shogun
with skipper Norm Kagawa returned to
Fisherman's Landing
January 20. Kagawa said his 22 anglers visited "The Cow Pasture," Jaimie Bank, The Ridge, Clam Bay and a rock fishing spot further north.
"We got a mixed bag," noted Norm at the dock. "Boy, there's a lot of marlin, from Thetis Bank to the 23 Spot, over 20 miles of 'em. They're on bait balls and on the high spots, marked by a lot of birds. Most of the fish under the birds are marlin or small tuna.
Skipper Norm Kagawa helps out with a jackpot lineup of big yellowfin tuna.
"We got no tuna on the kite this trip," he continued. "The bait-making was good, and the weather cooperated about half the time."
There were a couple of firsts on the trip. Robin Gist of Castaic won first place and became the woman angler with the largest tuna so far this season when she uncorked a 273-pound yellowfin on the scales.
Robin Gist of Castaic hauled in the best tuna caught by a woman this season.
"I'd like to thank the crew and the other anglers," she said. "They all helped me a lot. And thanks for the loan of a reel!"
Robin got her tubby tuna on a sardine and a 6/0 ringed Super Mutu hook, tied to 130-pound Izorline and 130-pound Izor Spectra backing. She used a Penn 50 SW reel and a Seeker 6455 XH rod.
Wayne Gray of Camarillo was second, for a 247-pounder, "My best fish ever," he said. "It took 45 minutes."
Wayne Gray of Camarillo fished a sardine on 130-pound gear for his second-place tuna.
Gray fished with a sardine on a 7/0 ringed Super Mutu, and used 130-pound Izorline and 130-pound Izor Spectra on a Penn 50 S reel modified by Cal Sheets (who was on the trip but failed to improve on his record-holding Mexican Black Jack, although he still holds the title of "Chopa King," noted his wife Nancy), and a Penn International II rod.
Rookie Mark Grisham of Bismark, MO cracked the 200-pound club with a 200.8-pound yellowfin tuna.
Rookie Joins 200-Pound Club: Mark Grisham got this baby in 20 minutes.
"He fought for 20 minutes," said Mark. "It was awesome! He took off and peeled my drag down for 200 yards, at least. Then he came back. He went down, but he came up. I had a great time; I'd do it again in a heartbeat."
Eugene Wong of LA also had a first; the first dorado off a long ranger this season that weighed over 40 pounds. Wong's fish weighed 44 pounds, a dandy bull that took a sardine bait.
First Whopper Flat: Eugene Wong of LA bagged the season's best dorado with a sardine.
"He's my best yet," said Wong.
New Pro Shop
Mike Malcolm, who worked for Capt. P-Bod for many years, will shortly be starting up a new salt and fresh water pro shop, the Fish More Tackle Center near the Food 4 Less super market, at 510 Hacienda Drive in Vista, at Suite 104. Mike said he will specialize in custom rods and reel repair, and will offer a full line of tackle. More information will be posted here, with photos, as soon as it becomes available.