By Bill Roecker
Tim Ekstrom and Randy Toussaint took ten anglers on a ten-day
Royal Star
trip off southern Baja that brought home 18 tuna over 200 pounds, including one at 309 pounds, caught by regular angler and
Accurate
rep Stas Vellonakis of Hawthorne.
That supercow won first place for Stas, who wasn't at the dock at
Fisherman's Landing
January 23 to interview, as the passengers flew home from Cabo. But
Blackwater
rep and co-chartermaster Kevin Leon was able to fill in the blanks for Bill Roecker as to the tackle used by the jackpot winners.
Stas got his 309-pounder on a sardine and a 5/0 Gorilla hook. That weight was the same on the boat and on the dock scales, said skipper Ekstrom. Vellonakis used 100-pound Blackwater fluorocarbon and 130-pound Blackwater Spectra on an Accurate 12 reel and a Calstar 665 XH rod. The fish put off gaffing for 45 minutes. Stas also got a 223-pounder.
Kevin Leong won second place for a 266-pounder. Kevin also fished a sardine on a Gorilla hook, a 6/0. He said he used 100-pound Blackwater Fluoro and 130-pound Blackwater Spectra on an Accurate 30 reel and a Calstar 6465 XXH rod to bag the beast in 30 minutes. Kevin also got a 215-pound yellowfin tuna.
Rob McAdam of Mill Valley won third place for a 263-pound tuna that bit his sardine on a 9/0 Eagle Claw hook. He fished with 100-pound Blackwater Fluoro and 130-pound Spectra on a Penn 30 reel and an unknown rod. Rob also had a 237 and a 209-pounder.
Here is the the rest of the catch:
Steve Kimbrough, Huntington Beach, 253 pounds.
Don Louchios, El Toro, 205 pounds.
Mike Neal, Rancho Santa Margarita, 225 and 205 pounds.
Todd Phillips, San Pedro, 242 and 239 pounds.
Bob Pound, Lake Elsinore, 225 pounds.
Bart Ryder, San Clemente, 220 pounds.
Mike Sakasegawa, Los Angeles, 230, 221 and 215 pounds.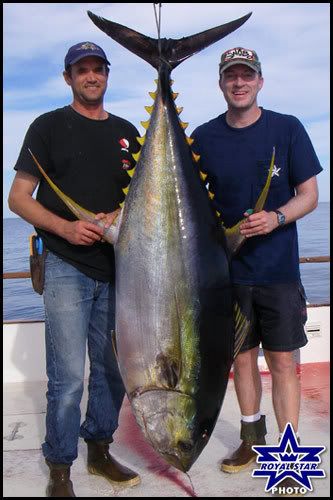 On January 17, co-skipper Tim Ekstrom posted this for the
Royal Star
:
"So, with six hours of daylight and the best strategy we could figure based on conditions, we chose our direction and set to looking. It didn't take long. An hour later we came upon scattered indications of big fish and after a couple of unproductive attempts located a spot that was markedly different. From afar the birds and dolphins had a narrow focus following what appeared to be some kind of bait ball up on the surface. At about a quarter mile it came into focus and our instincts jumped into overdrive as we recalled many previous like scenarios that resulted in big catches.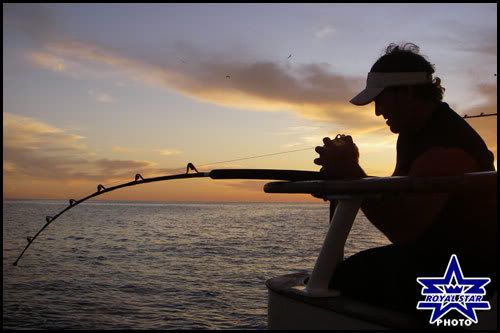 "A school of twenty to thirty pound giant squid was being harassed by a group of dolphins balled up on the surface while fleeing for their lives. It appeared that the squids had even greater concerns from something down below. We when caught up to them, a school of giant yellowfin was trailing below, lining up to sow destruction on the deserving mollusks and add to their already mammoth proportions with another hearty meal.
"In the end I believe the squids were saved as
Royal Star
provided instant refuge. Thankfully the giant yellowfin were not ready to give up the chase. With their appetite whetted, and plenty to eat flying over the side, they set up camp and got down to business biting in earnest for the next couple of hours while we basked in the indescribable pleasure of working balls out to stay ahead of the action.
Twenty four was the total from the afternoon hit with six of those over the two hundred mark and the majority of the others coming in at one fifty to one eighty.
"Combined with an incredible surface showing, that has almost unbelievably become standard in this area, the action can again only be described as paradise as this group of ten, highly proficient anglers set to their beloved challenge of hooking and landing giant yellowfin tuna in flat calm seas and perfect conditions. What an afternoon! This was exactly what we needed to feel satisfied."