"Fantastic fishing again today," wrote
Polaris Supreme
owner-skipper Tom Rothery at sea off the Baja coast January 7, "in good weather. Craig caught a 205, Sheridan has a 235, and Bobby and Charley each have one that is close to 200lbs.
"Kevin caught a personal best today 180 pounds. Look out, Eddy, he still has two more days to get a 200-pounder. We will be trying this tomorrow."
Polaris Supreme will return at the end of this trip to Fisherman's Landing, on January 15.
RP At Hurricane
"Our weather today was about the same, 18 to 20 knots of breeze, overcast skies, with a slight chill in the air," said the report from
Royal Polaris
, fishing at the Hurricane Bank January 7.
"Our morning started out slow once again, with only a few Wahoo to be caught. But the afternoon bite started a little bit later today, no surprise to us. Most of the fish were in the 130 to 150-pound range, with a few going to 180 pounds, and one going over 200 pounds.
"The lucky angler today was Susan Gentry with a Yellowfin around 225 pounds. Gary Ahsing landed a fish around 180 pounds, and Taka Tanaka had 3 fish today, from 130 to 150 pounds. We are hoping that the weather will come down a little bit more tomorrow, but that's another story."
Royal Polaris has found some very good fishing for cows at the Hurricane Bank.
Cookie Cutter Shark
"What happened to my tuna?" an angler asked me at the scales one day. His yellowfin had a piece the diameter of a coffee cup missing from its flank. The depression of missing flesh was a couple of inches deep in the middle and perfectly symmetrical in its slope up to the outer edge. It looked like it had been perfectly made, by a machine.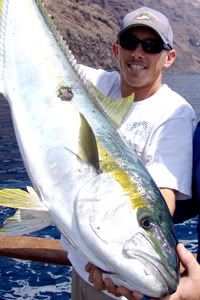 "Your fish got bit by a cookie cutter shark," I told him. "It's a common thing, and sometimes I see fish with more than one bite taken out of them. As far as I know, the victim usually survives and the wound heals over to a scar."
I've never seen a cookie cutter shark but scientists have. The January issue of
Sport Fishing Magazine
features a "fish facts" piece by Eric Prince, answering the questions from an East Coast angler about the same bites.
Prince says that the sharks, although small, attack much larger prey, such as bluefin tuna and even nuclear subs, taking hunks out of the flesh and rubber radar domes, respectively. That doesn't say much for their intelligence, but sharks have never been high on the list of smart marine animals.
This Guadalupe yellowtail has been bitten by a cookie cutter shark.
I spoke with
Curt Schaefer of the Inter-American Tropical Tuna Commission
, who told me that cookie cutter sharks live in all the world's tropical oceans, and that they're pretty much the same species. Kurt directed me to
Fishbase.org
, which is a site of great interest to all fishermen with questions about fish and sea life.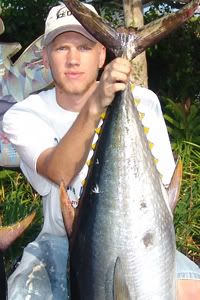 Near the top of the home page, the site says it offers 29600 Species, 222400 Common names, 43600 Pictures, 39200 References, 1410 Collaborators, and 29 million hits per month. That's a lot more information than the average fisherman is going to need or ask for. Bookmark the site for your own future reference.
The scientific name for the cookie cutter is Isistius brasiliensis, and while there is another species, this one is by far the most common, more likely to be encountered by South Coast anglers.
The cookie cutter shark has a round, sucker-like mouth, as you'd expect. Inside, it has teeth only on its lower jaw. But what teeth! They look like a rip saw. The shark swims up to its prey, locks on with the sucker mouth, and sinks those sharp lower choppers in.
Then it twists and writhes around in a circle, taking out a round piece of flesh with a deep center and shallow edges.
As Eric Prince puts it, "The bites are so cleanly done that the tissue appears to have been removed with a cookie cutter."
The wound on this tuna, left by the cookie cutter shark, is almost healed.
And that's how the cookie cutter shark makes its living, and leaves those circular wounds and scars on fish like yellowtail and tuna.
Fishbase
says that even whales get pock-marked by these little biters, which are so small they're rated as no threat to humans. So the next time you catch a fish with a ding on its flank, you'll know that's the mark of the cookie cutter. Don't worry, your fish is still good to eat.