Wahoo are popular with long range anglers right after big yellowfin tuna. The reason for the fervor they inspire is they're the best-eating fish south of San Diego. Big skins fight hard, of course, and more than once I've had a husky one convince me he was a tuna, dogging me in the depths, until I could see that long, striped, blue-lit silver side.
The way wahoo slash trolled or cast jigs, slow-trolled baits and flylined 'dines or mackerel is most gratifying. They'll even eat chunks, though mentioning that fact won't win you any friends in a circle of wahoo jig-throwing purists.
Bill Roecker got this wahoo in the "good ol' days" at Clarion Island on a Burns Bomb.
(Leif Backe Photo)
But it's the way wahoo eat that jams the boys at the rail when the skins are prowling at the edge of the chummer's reach. White, flaky wahoo meat is well-complimented by citrus, sauces and wines. That gives the wahoo a status no other fish can match. Here's a nice way to cook 'em:
Lemon Wahoo with Mushrooms
(Thanks to Shirley Rizzuto for her inspiration and the basis for many of my recipes.)
Ingredients:
One to two pounds of wahoo filets (as you need); about two inches thick.
One egg, beaten
Olive oil in frying pan
Package of fresh steak-cut mushrooms
Two cans of cream of mushroom soup
Two sprigs of fresh rosemary
Two ounces of white cooking sherry
Three whole fresh lemons (two for juice, one for garnish)
Cooking:
Dip filet pieces in egg; brown in frying pan.
Put browned fish in casserole dish with soup and sliced mushrooms. Mix to cover.
Add lemon juice, wine and rosemary.
Put lemon slices on top; cover casserole.
Bake at 350 degrees for an hour; liquid should bubble.
On The Side:
A greens mix of Swiss chard, mustard turnip and kale, with sliced sweet onions, minced garlic and two tablespoons each of soy sauce and water. Sautee and serve with white or brown rice. We like whole-grain wheat toast with this tasty and healthy dish as well.
Red Rooster III Report
Jan. 28th, 2007: "We continue to see the same type sign around the area with the exception of maybe a few more of the 100 to 130-pound class fish showing throughout the day today. Our day pretty much went the same as two out of the last three days with the exception of a 200-pound fish; no cows for us today.
"We had eight of the 100 to 130-pound class yellowfin tuna and pretty good scratching on the 35 to 60-pound fish from day light to dark. There have been no big hits anywhere that our code group has been in the last week and so far this area is the best for fairly consistent scratch fishing with the occasional cow. Once again we are going to stay put and keep putting something aboard each day with the hope that we can get one or two banner days before our fishing time runs out. The forecasts for the weather in this region have been right on the mark, with light and variable winds and no seas, we are enjoying that aspect of the trip immensely." (Skipper John Grabowski)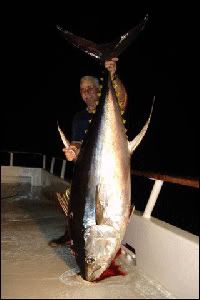 Excel Report
January 27, 2007: "Today was pretty similar to yesterday with action all through the day on smaller tuna and a hit on bigger fish in the evening.
"The big fish of the day went to Stan Evans with a 250 pound yellowfin he caught on a squid on the kite and 130 pound line.
"We had several other fish today in the 100 to 130 pound range and 5 wahoo.
"The weather continues to be nice and we hope to put another day together tomorrow. We will check in later." (Skipper Shawn Steward)
Royal Polaris Report
January 27, 2007: "Hello everyone, weather continues to be excellent at the bank. We had 12 to 15 knots of breeze, with very little sea and all the sunshine you could ask for. It was a very long day, but that all changed at 15:00 hours. We had a spot of fish show up, and boy, did they want to bite! We had as many as 10 fish going at any time. This was a mixed batch of fish, with most in the 40 to 70-pound range, with a few going over the century mark.
"Largest fish today came to chartermaster Jerry Brown. Jerry's fish was around 180 pounds. It was a very tough day of catching, but Billy held his own and the waiting game paid off. Most of our passengers weren't ready, but the quick hands of the crew sure paid off. The bite was fast, hot, and heavy. The bite slowed up once the sun was down, but we have something to look forward to tomorrow."
January 28, 2007: "Let's talk about the weather; we had rain, we had 35 knots of wind, we had flat seas. It was blowing so hard at one point, the spectra on our kites broke, and the reels blew up. You could say we had all season today, but no snow. We had a day of mishaps. We lost a few kites, all 3 of our kite reels stopped working (burned out because of the wind). We are back in the stone age; bring the kites in by hand.
"Now enough about our problems, let's talk about fishing. We had a slow morning, but we did scratch a few fish today. There is still lots of life on the bank, it's just a matter of time. Largest fish today was caught by Jerry Brown. Jerry's fish was caught on a live flying fish, and Jerry made quick work of this giant. Jerry's fish was estimated at 250 pounds." (Skipper Billy Santiago Jr. and the RP Crew)
Royal Star Report
January 27, 2007: "Lo and behold! Just when you think that all is doom and gloom and the fish are all gone guess what happens? Captain Toussaint, working in the same general "beach" area yesterday ran across the mother lode reporting "as good of sign of giant yellowfin as he has seen yet this season". Big spots of jumpers, sonar schools, and plenty of scattered cows or "loose" fish around had the guys stopping all afternoon as the big cows crashed around and stayed with the boat. Now the less than perfect part of the report is the fact that once again the big cows were reluctant to bite doing a lot more showing than going. But they did manage to hook a couple of cows from one spot that yielded a 204 for angler Bill Hunter and a heartbreaking loss of a "giant one" according to Captain Toussaint.
"At present the boat is experiencing technical problems with the satellite connection so I have been enlisted as voyage narrator based on information Randy is providing. Wish the guys luck out there as this big deal. Needless to say we were sweating bullets over the past week with the big fish not showing and our "gut feeling" or "instinct" about them being there on the line. Now that part of it is settled but the guys still have plenty of catching to do before we come out smelling like roses." (Skipper Tim Ekstrom, from the Royal Star office)
Independence Report
January 26, 2007: "We have started the trip out in the big fish grounds on the coast and after the first full day of fishing we did not even hook a fish. There were some fish that we saw early in the morning that would not boil or bite. So far this morning of the second day we have 2 fish that are in the 100-pound range and we see fish around the boat steady so hopefully they will turn on and bite well for us. The weather has been very good since we left the dock, flat seas and almost no wind." (Skippers Mark Pisano, Paul Strasser)
Pat On Head
Occasionally we get e-mails of praise, and enjoy sharing them.
A note to assistant Paul Sweeney from Chuck Garrison said January 26,
"Thanks so much for the recent mention and grand publicity for my upcoming biography of Bill Poole, "Fish or Cut Bait," I really appreciate it!"
Some of the messages are light-hearted, like this one:
"I LOVE my Bill Roecker 2007 Sportfishing Calendar! Tell your sponsors I'm buying all their products. My wife gave me the calendar for Christmas."
Steve Chandler, Tempe, AZ (by e-mail January 26, 2007)
And some of them make us feel like we're doing something worthwhile:
"Well Bill, I am finally back home in Cape Girardeau, Mo and settled in after my 10-day trip on the Royal Star. It was great to see you once again dockside doing the reports that so many come to read daily. I know for myself, I look to these reports as guidance for information on what is the hot lure, jig, or technique for catching fish prior to my departure on my trips.

"I personally want to thank you for this website. I know, as an Outfitter who maintains his own website, how much time, effort and costs are associated with running a website. Thanks for your never-ending push to keep us all informed with articles and photos that inspire. Thank you Sir, for your hard work and dedication to us all."

Tom Younce
Cape Girardeau, Mo
Santa Barbara County Outfitters