Bill Hunter of Rancho Palos Verdes fished on the
Royal Star
with skipper Randy Toussaint and caught his first cow. He also won the jackpot for his 204-pound yellowfin.
"I used a three-ounce sinker," said Bill at
Fisherman's Landing
February 4, "and he picked it up 50 feet under the boat. Then he ran like a freight train, and I had a 30-minute tough fight, with some great help from the crew. He came up at the starboard bait tank."
Bill Hunter sank a sardine to collect this winning tuna.
Hunter, who is a sculptor, fished with a sardine on a 9/0 Eagle Claw hook, tied to 130-pound Izorline and 130-pound Spectra backing on an Accurate 50 reel and a Calstar 7460 XH rod.
Greg Akinshin of Half Moon Bay won second place for a 121-pounder, and Craig Covey of Costa Mesa took third for a 103-pound tuna.
"We saw a lot of cows off the southern Baja coast," said skipper Toussaint. "In fact, we saw more than we did the last trip we were down there. That area may not get coverage after now, though."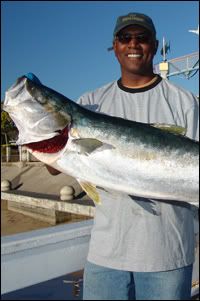 Toussaint referred to the latest trend for successful fishing on the outside, chasing schools of surfaced tuna beyond the protected waters limit of the Revillagigedos Islands. Several boats have had good luck with that lately. Combine that with the fact that most trips from now on will be of the longer variety, and it's reasonable to think long range boats will be fishing well offshore for a while.
An excellent catch of yellowtail, small tuna and dorado was made by the Star's anglers on the way home.
Roland Crane of LA posed with a yellowtail in the 30-pound class. He said he bagged it with a sardine.
A mackerel was the perfect bait for this "flat, " caught by Paul Rubio, and many other dorado on The Ridge.
Paul Rubio of Huntington Beach displayed a typical dorado of about the same size. Paul said he took his "flathead" on a mackerel.
A Mystery Fish
"We never knew what it was," said
Red Rooster III
jackpot winner Steve Morse at
H&M Landing
February 4, "until we could see it, swimming with its dorsal fin out of the water, back and forth across the stern. Thanks to the crew, I got my first big fish, at the Hurricane Bank."
This giant yellowfin swam near the Red Rooster III's stern when it was hooked, with its fin out of the water.
Fishing with the kite, Morse (of Oxnard) used a squid on a 9/0 Mustad 7691 hook, tied to 130-pound Izorline and 130-pound Line One Spectra on an Accurate 80 reel and a Seeker 6463 XXXXH rod to take his 272.8-pound whopper.
The trip was sponsored by
Accurate
and
Seeker
, with reps David Choate and Brian Porter aboard for the two companies. Morse fished with skipper John Grabowski and 17 other anglers, and Grabowski used most of his 15-day trip to test the waters on the outside.
Regular long ranger Wayne Prescott of Alta Loma won second place for a 240.9-pounder that crashed on another squid under the kite. Wayne said he used a 9/0 Mustad 7691 hook, 130-pound Izorline and 130-pound Izor Spectra on an Accurate 80 reel and a Seeker 6463 XXXXH rod.
Jackpot winners on the Rooster pose with their three cows.
"It only took about 35 minutes," he remarked. "With these big reels, the cows don't last long. They kill 'em dead."
Bill Brandstetter of Mission Viejo won third place for a 210-pounder. He fished a sardine on a 3/0 Gorilla hook, with 90-pound Seaguar fluorocarbon leader tied to 100-pound Power Pro Spectra on a Tiagra 30 reel and a Calstar Boomer Jr. rod.
"It was a lot easier than the 174-pounder I got on 60-pound line," said Bill. That one took three hours. This one was a 45-minute fish."
"Accurate Jack" Nilsen and his wife Linda were at the weigh-in for the Rooster.
Accurate owner Jack Nilsen and his wife Linda were on the scene; a sunny morning on Super Bowl Sunday.
Halibut Derby Rules
(from Larry Brown)
Dear Fishing Media and Association Friends;
The MDR Halibut Derby is the largest and most prize and cash rich fishing tournament on the west coast. We anticipate breaking all participation records this year because we have moved the derby forward a month to take advantage of normally expected better weather and normally better fishing later in the Spring and because we have added a new Kayak Division, which is getting a enthusiastic response from the kayak angling community.
Thank you for supporting and writing about the Marina Del Rey Halibut Derby. Besides being newsworthy, all proceeds support our philanthropic causes including:
- The Marina Del Rey Anglers Youth Fishing Program, where we take over 1,200 youths from high risk environments for fishing trips out of Marina Del Rey,
- The Hubbs-Seaworld Research Institute White Seabass grow out pens in Marina Del Rey, where we have released over 100,000 juvenile white seabass back into the wild, and the total program has released over 1,000,000, resulting in routine catches of white seabass in the 20 to 50-pound range, and
- Large donations to support UASC and RFA programs so they can support and represent all recreational anglers.
Should you have any questions or need more information or copies of recent press releases please feel free to contact me, or better yet the MDR Halibut Derby co-chairs Ken Raymond at (310) 398-3133 or Stan Zisser at (310) 306-9781.
Larry Brown
MDRA Director
MDRA Media Relations
The Derby will be held April 21 and 22 at Marina del Rey, and there will be prizes for the ten largest halibut. The prizes include a new boat and pickup.